Spring Recipes from Healthy Living Market
03/22/2010 09:06PM ● By Anonymous
By Nina Lesser Goldsmith
Roasted Poussin with Savory Bread Pudding
For the Bread Pudding:
1 Tbsp butter
3 Tbsp olive oil
1/2 medium onion, thinly sliced
1/2 lb wild spring mushrooms, cleaned and sliced
1/2 cup shelled peas
Kosher salt and freshly cracked black pepper
4 whole farm fresh eggs
1-1/2 cups milk
1-1/2 cups cream
1/2 loaf crusty country-style bread (I love Red Hen Bakery's Waitsfield Common), cut into 1-inch cubes
Note: I prefer to blanch my fresh peas in boiling salted water before adding them to this recipe. It keeps them bright green and I find the texture is better. This step is optional, but I really think it improves the dish!
1. Preheat your oven to 325°. Prepare an 8x8-inch baking dish by greasing it evenly with the 1 tablespoon of butter and set aside.
2. In large, heavy-bottomed frying pan, heat the olive oil over high heat. Add the onions and sauté until browned and softened. Add the mushrooms and cook until tender. Add the peas and cook just one minute more. Season with salt and pepper and set aside to cool.
3. In a large bowl, combine the eggs, milk, and cream. Whisk the mixture together until very smooth and even in color.
4. With all your components at room temperature, you can assemble your bread pudding (if your veggies are too hot you will curdle the eggs and the pudding will be lumpy rather than velvety smooth). In a large mixing bowl combine the bread and the vegetable mixture. Toss to combine and then arrange the mixture evenly in the prepared baking dish. Carefully pour the egg mixture over the top. Using your hands, gently push the bread into the egg mixture to make sure it is all submerged. Allow the pudding to soak for at least 20 minutes and up to an hour before baking. This will help the bread really absorb the egg mixture completely.
5. Place the pudding in the oven and bake for 60 to 70 minutes or until the center is firm to the touch and the sides puff and pull away from the edge of the pan. Allow the pudding to cool for at least 20 minutes before slicing and serving.
For the Poussin:
4 farm-fresh poussin
2 lemons, cut in half
4 cloves of garlic, smashed
Butcher's twine
4 Tbsp unsalted butter at room temperature
Kosher salt and freshly cracked black pepper
1. Preheat your oven to 500°. If you have a convection oven, you can heat it to 475° convection.
2. Pat the poussin dry with a paper towel. Stuff each bird with half a lemon and a smashed clove of garlic. Using a piece of butcher's twine, truss the legs of each bird together tightly. Rub each bird with 1 tablespoon of the softened butter and season them all over with salt and pepper. Place them on a rimmed baking sheet or shallow baking pan lined with a roasting rack.
3. Place poussins in the oven for about 30 minutes or until the skin is golden brown and a thermometer placed between the breast and leg reads 145°.
4. Rest the birds out of the oven for at least 10 minutes before removing the string and stuffing. Serve the poussin whole on a large serving tray with sautéed pea shoots or wilted baby spinach.
Rhubarb Pudding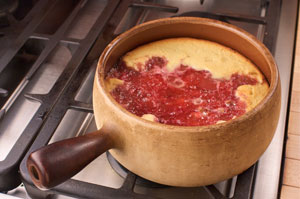 I love this dish. My mom used to make it for me when I was growing up and it was always a sure sign that spring was here. It's not like the regular pudding you may be used to. It's more like a sticky English pudding, made from a thick rhubarb sauce and a creamy cake batter fragrant with fresh orange zest.
4 cups rhubarb, chopped
2 cups sugar (divided)
1/3 cup butter
Zest of 1 orange
1 egg
2/3 cup milk
1/2 tsp vanilla
1 tsp baking powder
1/4 tsp salt
1 cup flour
1. Preheat your oven to 350°.
2. In a heavy-bottomed (nonaluminum) saucepan, cook the rhubarb in 1/2 cup water (you may also use the fresh juice from the orange here in place of water) until tender. Add 1-1/3 cups of the sugar and simmer for 10 minutes more.
3. In a separate bowl, or in the bowl of a stand mixer with paddle attachment, cream the butter and the other 2/3 cup sugar together until fluffy and pale yellow. Add the orange zest and egg and beat until everything is fully combined and fluffy. In another bowl combine the milk and vanilla. In a third bowl sift together the dry ingredients. Alternately add the milk and flour mixtures to the creamed ingredients, mixing to incorporate everything after each addition.
4. Pour the batter into a deep, buttered baking dish. Pour the boiling rhubarb over the top of the batter. Do not mix the two components together in the baking dish; just let the sauce cover the batter; they will incorporate naturally in the oven.
5. Bake the pudding for 45 minutes, and cool for at least 20 minutes and serve warm with vanilla ice cream. You will be loved!
Nina Lesser Goldsmith is the Food Education Coordinator at Healthy Living Natural Foods Market. Nina is a classically trained chef from The French Culinary Institute; she has cooked in numerous restaurants and has worked as a personal Chef in Manhattan. She focuses on seasonal, locally grown food and is passionate about teaching people that cooking is not only easy but also fun! Come and join Nina for a cooking class in the NEW Healthy Living Learning Center. Classes are available for all ages, skill levels, and interests. To see what we have cooking please visit www.healthylivingmarket.com/learning-center.
[Photos by Zachary Minot]