Win Tickets to the Lake Monsters Home Opener
03/07/2014 05:50PM ● By Ryan Frisch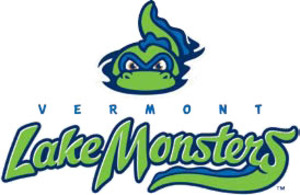 The
Vermont Lake Monsters
will open their third decade at Burlington's Centennial Field on June 16. A member of the New York Penn league, the Lake Monsters play "Single-A Short-Season Affiliated Baseball." To translate, they are a minor league affiliate of a major league team (hint: see the article on page 22 of the Spring 2014 issue), and the short season is short indeed: 76 games over 80 packed days.
But there's a whole lot of entertainment crammed into every one of those 80 days, particularly at the
38 home games. Spectators crowd Centennial Field for family fun, both on the field and off—headed up by the Lake Monsters' near-mythic mascot from the depths of Lake Champlain—CHAMP.
Says Kyle Bostwick, Lake Monsters VP, "The level of entertainment is right in that sweet spot where you can take a child without worrying about any offensive content, but young adults can also spend a great evening without feeling it's just for kids."
This contest is now closed.
The winner is Susan Manny-Woods!

The Answers
Which Major League team are the Vermont Lake Monsters affiliated with? Oakland Athletics
What year did the Vermont Lake Monsters win its only NY-Penn League championship? 1996
Which former Lake Monsters pitcher was selected to the 2013 National League All-Star team? Jordan Zimmermann
Which former Lake Monster was a member of the 2004 World Champion Boston Red Sox? Orlando Cabrera
Which former Lake Monsters has won 2012 and 2013 Silver Slugger as top offensive shortstop? Ian Desmond