Mission Possible Urban Scavenger Hunt Raises Over $8,400 for UWOCC
09/19/2014 06:33PM ● By Ryan Frisch
Photos coutesy of Dan Chrobak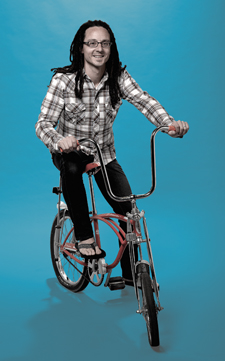 The 5th Annual
Mission Possible Urban Scavenger Hunt
that took place on August 17, 2014 raised over $8,400 for programs of the United Way of Chittenden County. We caught up with volunteer Brett Smith (pictured right) to learn more.
1) Tell us a little about Mission Possible, is there a main attraction or draw that people reference?
Mission Possible is an off-the-wall urban scavenger hunt fundraiser in which teams of two compete in fun and exciting physical and mental challenges throughout Burlington. Teams raise funds in advance, similar to a walk-a-thon, and then participate in the half-day event, which took place on August 17 this year. 
2) Is this an annual event? How does the experience change from year to year or event to event?
Yes, it's an annual event. Each year the event changes, with new clues and challenges ranging from solving riddles, tricycle races and even paddle boarding. In addition, there is a photo challenge that is always a blast. Woven into each of the challenges are experiences that help teach participants about community non-profit programs associated with United Way. Over the past four years, the event has raised over $45,000 for the cause. 
3) What's something people usually assume about the scavenger hunt? What do people usually assume that's incorrect?
People will always assume they are going to have a good time while raising funds and awareness for a great local community cause, and that's good, because they do! Sometimes people can be apprehensive about the tasks or challenges, but they are always pleasantly surprised at how fun and low-pressure they end up being! Plus, there are thousands of dollars worth of prize giveaways awarded for all kinds of accomplishments. 
4) What is your personal favorite aspect of the event?
The overall scavenger hunt experience is really unique and memorable, but what really sticks with me is the experiences created with all of the local non-profits that are woven into the event. It's truly memorable and eye opening. 
5) What's the funniest, strangest, most unusual thing you've seen during the scavenger hunt?
One of the photo scavenger hunt tasks was to take a picture of yourself wearing handcuffs. Surprisingly, one team was able to pull it off! 
6) Why did you choose United Way of Chittenden as the primary beneficiary? Who else benefits from your program?
The event was created back in 2010 by a group of young professional volunteer advisors with United Way as a means to educate young people about the important role that United Way plays in our community. United Way of Chittenden County builds a stronger community by mobilizing and uniting people to work together to address the root causes of community challenges, develop new solutions, and invest in programs that will improve the three pillars of a good life: Education, Income and Health. 
7) Anything else you'd like to add?


Congratulations to the two top fundraising teams, Lighten Up Francis (Laurie and Jeremy Francis) and Bungalow 77 (Marissa and Cory McDonald), and to the Mission Possible Scavenger Hunt Champions, Smooth Criminals (Chris Yager and David Coutu).
About Brett Smith
United Way of Chittenden County Volunteer, Founding Partner at Fuse & UW Board Member 
About United Way of Chittenden County
United Way of Chittenden County unites our whole community to solve complex problems and harness the power of people to create a stronger Chittenden County. United Way convenes advocates, organizations and institutions to address the community's most pressing issues, focusing on the building blocks of a vibrant community: education, income and health. The problems facing our community are complex; they are issues that no single organization or individual alone can solve – real change is possible when nonprofit, public and private sectors work together. United Way has the networks, partnerships and strategic initiatives to improve the lives of our family, friends and neighbors.  For more information or to donate, visit www.unitedwaycc.org.

Mission Possible Urban Scavenger Hunt [24 Images]
Click Any Image To Expand