3 Dietitian-Approved Ways to Add Nutrition to Your Diet for Sustained Energy
04/16/2023 02:06PM ● By John Gales
Sponsored Content
Nutrition plays a key role in overall health and can positively affect everything from mood to energy levels. When thinking about ways to fuel busy days that will help you feel fuller, longer, look to clean, quality protein, which isn't just good for muscle growth and repair but also plays an integral part in overall health.
In fact, protein helps keep bones strong, supports your immune system, fuels metabolism to sustain energy, curbs cravings, distributes nutrients throughout your body and more.
If you're looking for ways to optimize your nutrition intake, it's important to know the U.S. Department of Health and Human Services' Dietary Guidelines for Americans recommends the average person consume 10-35% of their daily calories from protein. Some changes like replacing cereal with protein-rich foods like eggs, snacking on healthy fats like nuts or fibrous veggies and fruits, or starting meals by eating the protein first can help set you on the right path.
In honor of National Nutrition Month, consider these bite-sized tips from nutrition expert Steph Grasso, a registered dietitian nutritionist (RDN), social media influencer and member of the Orgain Nutrition Advisory Board, to help incorporate more quality nutrition into your diet in convenient, delicious ways and keep you feeling fuller, longer:
Choose nutritious, filling snacks. As part of your preparation for the week ahead, meal prep refrigerated snack containers featuring nuts, sliced cheese, veggies and a fun dip, like hummus. Grab-and-go fuel is imperative to creating balanced eating habits when life gets crazy. Another convenient solution, a high-quality nutrition shake can serve as a delicious option on jam-packed days.
Maximize nutrition when enjoying sweets. If you have a sweet tooth, adding a scoop of high-quality protein powder to baked goods can be a simple way to sneak more protein into your diet. For example, Grasso recommends adding unsweetened Orgain Plant-based protein powder to these High-Protein Pumpkin Pancakes. With 21 grams of vegan protein and an excellent source of iron with 6 milligrams per serving, organic protein powder is non-GMO and made without added sugar and artificial sweeteners.
Have frozen veggies on hand. Frozen fruits and vegetables are just as nutritious and delicious as their fresh counterparts and often more affordable and convenient. They are typically picked and frozen at the peak of ripeness when they are most nutrient-dense. They are prepped and ready to go, making meal preparation fast and easy. An ideal accompaniment to your choice of protein and grain, this Frozen Veggie Side Dish includes Greek yogurt and cheese for an added protein punch.
Find more tips and protein-packed recipes at Orgain.com.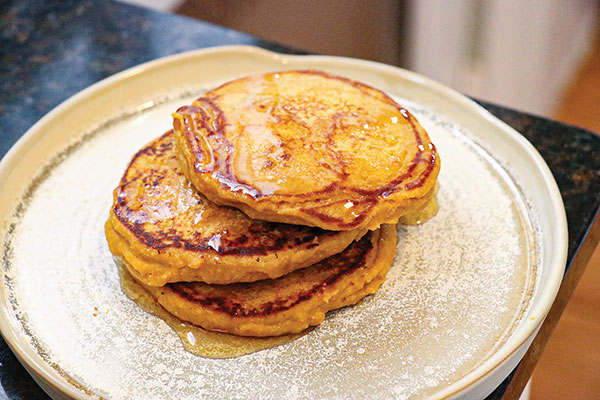 High-Protein Pumpkin Pancakes
Recipe courtesy of Steph Grasso on behalf of Orgain
2 cups oats
1/2 cup cottage cheese
1/3 cup pumpkin
1 teaspoon vanilla extract
2 egg whites
nonstick cooking spray
berries, for topping (optional)
bananas, for topping (optional)
nut butter, for topping (optional)
syrup, for topping (optional)
In bowl, use blender to blend oats, cottage cheese, pumpkin, protein powder, vanilla and egg whites.
Spray pan over medium heat with nonstick cooking spray.
Use 1/3 cup measuring cup to scoop batter into hot pan one scoop at a time.
Flip pancake once pan-side is lightly browned. Remove from pan once both sides are cooked. Repeat with remaining batter.
Stack pancakes and top with berries, bananas, nut butter and syrup, if desired.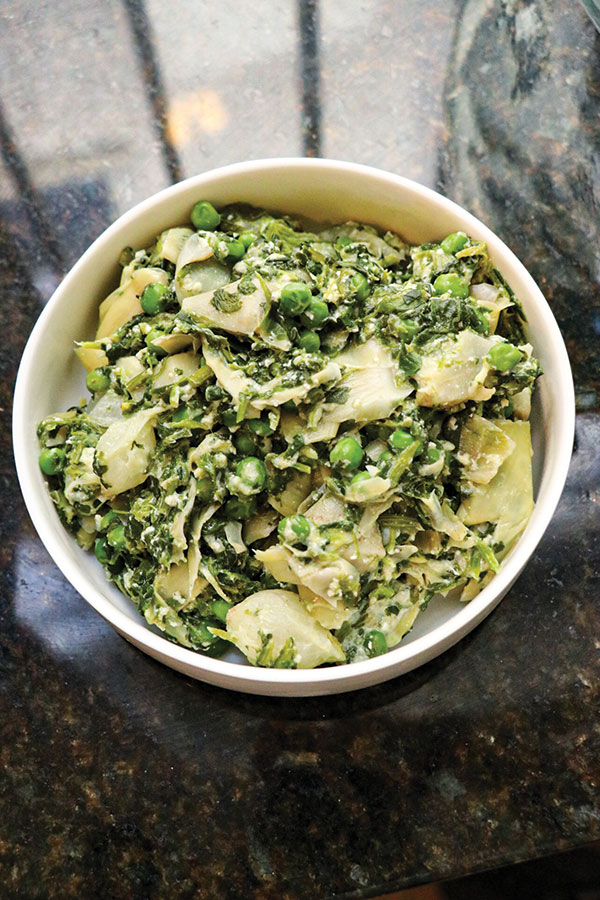 Frozen Veggie Side Dish
Recipe courtesy of Steph Grasso on behalf of Orgain
1/2 bag (14 ounces) frozen white pearl onions
1 box (8 ounces) frozen quartered artichoke hearts
1 box (10 ounces) frozen chopped spinach
salt, to taste
pepper, to taste
1/2 cup frozen sweet peas
1/4 cup heavy whipping cream (optional)
1/4 cup 2% plain Greek yogurt
1/4 cup grated Parmesan cheese
Prepare frozen white pearl onions, artichoke hearts and spinach according to package instructions.
In pan over medium heat, saute onions and artichoke hearts until tender. Season with salt and pepper, to taste.
Add spinach, frozen sweet peas, heavy whipping cream, Greek yogurt and Parmesan cheese. Mix until cheese is melted, and peas are soft.
Serve with protein and grain of choice, if desired.