John & Robin Gales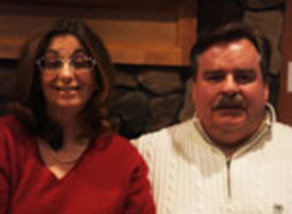 John & Robin Gales worked together in the broadcasting industry for 11 years with John as the Director of Sales and Robin as the Traffic Manager for 4 radio stations in Lebanon, New Hampshire. John had gone on to handle General Manager's duties for a group of 5 radio stations in central Vermont and the Northeast Kingdom. After a long successful tenure in broadcasting John and Robin with the guidance of partner Bob Frisch and wife Cheryl, publisher of three community magazines in the Connecticut River Valley of VT/NH, began publishing Best of Burlington Magazine.
This publishing team brings to the magazine a host of experience in working in the community, business leaders, and Vermonters. John has served on a review and allocation committee for a local United Way, Lions Club, member of the Upper Valley Economic and Development Committee, Marketing Committee for the Rutland Downtown Partnership, and developed and supervised radio fundraising efforts for the Rutland Regional Fieldhouse that resulted in tens of thousands of dollars being raised.
In addition John and Robin have served in fundraising efforts for David's House, a home away from home for families of children being treated at Dartmouth Hitchcock Hospital and the Children's Hospital at Dartmouth (CHAD). It is their goal to provide a quality upscale magazine that spotlights all that the Champlain Valley has to offer. Further, to give someone, upon reading the magazine, a sense of pride and unfound knowledge of our beautiful area.